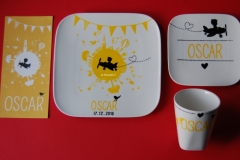 Dit geboortekaartje (wereldbol met details) deed mij denken aan het geboorteservies dat ik ooit voor Loïs mocht maken. De klant was zo blij met het resultaat dat ze er later ook nog een kussen met print van het geboortekaartje bij bestelde. Ook al zo'n leuke opdracht om aan te werken. (Ben je benieuwd naar deze twee Femkado's? Kijk dan even op Facebook voor foto's.)
Zo was ook deze opdracht leuk om aan te werken. Sowieso omdat ik na een verplichte time-out vanwege een verwonding aan mijn hand eindelijk weer aan de slag kon. Wat heb ik het schilderen gemist! Je kunt je er misschien niet veel bij voorstellen, maar voor iemand die graag creatief bezig is en hier ook nog eens haar werk van heeft gemaakt, was deze time out echt een crime. dus ik heb volop zitten genieten tijdens het werken aan deze opdracht. Ik ben er weer!
De bewerking van het geboorteservies voor Oscar is gebaseerd op het geboortekaartje. Wil je reageren op dit bericht? Onderaan kun je een reactie achterlaten. Omdat ik het zo leuk vind jouw reactie te lezen krijg je ook altijd een reactie terug op jouw bericht. En ben je enthousiast over dit bericht? Delen mag!
Wil jij ook een uniek en persoonlijk Femkado bestellen ter gelegenheid van een geboorte, een verjaardag of een andere gelegenheid? Eventueel met bestemming buitenland? Geen probleem!
Kijk eens op de site welke mogelijkheden er zijn. Heb je vragen of wil je overleggen? Stel dan eerst je vraag via het contactformulier. Weet je al precies wat je wilt? Laat het mij weten via het bestelformulier. Ik zie je bestelling graag tegemoet!