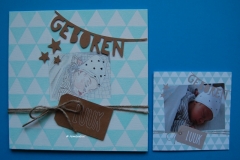 Namens Kraamzorg Zeewolde mocht ik weer een geboorteschilderij maken. Inmiddels zijn de ouders van Luuk hiermee blij verrast. Het geboorteschilderij is een collage geworden van verschillende technieken als schilderen, portrettekenen en snijwerk. En ik heb het weer met veel plezier gemaakt.
Ben jij zwanger of ken je iemand die zwanger is? En wil jij of die ander ook kans (laten) maken op een geboorteschilderij van Femkado namens Kraamzorg Zeewolde? Meld je dan nu aan voor prenatale zorg bij Kraamzorg Zeewolde, plaats na de kraamweek een leuke referentie en doe mee!
Wil jij ook een uniek en persoonlijk Femkado bestellen ter gelegenheid van een geboorte, een verjaardag of een andere gelegenheid? Eventueel met bestemming buitenland? Geen probleem!
Kijk eens op de site welke mogelijkheden er zijn. Heb je vragen of wil je overleggen? Stel dan eerst je vraag via het contactformulier. Weet je al precies wat je wilt? Laat het mij weten via het bestelformulier. Ik zie je bestelling graag tegemoet!