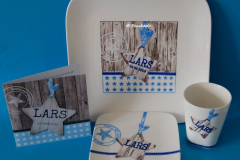 Het steigerhout is nog steeds populair onder de geboortekaartjes. Dus ook voor Lars mocht ik een geboorteservies maken met steigerhout als thema- achtergrond. het is toch elke keer weer een uitdaging om dit zo realistisch mogelijk weer te geven op het keramiek. Maar het resultaat mag er weer zijn, al zeg ik het zelf.
Het geboorteservies voor Lars is geïnspireerd op het geboortekaartje van ©Poobies.nl Wil je reageren op dit bericht? Onderaan kun je een reactie achterlaten. Omdat ik het zo leuk vind jouw reactie te lezen krijg je ook altijd een reactie terug op jouw bericht. En ben je enthousiast over dit bericht? Delen mag!
Wil jij ook een uniek en persoonlijk Femkado bestellen ter gelegenheid van een geboorte, een verjaardag of een andere gelegenheid? Eventueel met bestemming buitenland? Of heb jij specifieke wensen? Geen probleem! Kijk eens op de site welke mogelijkheden er zijn. Heb je vragen of wil je overleggen? Stel dan eerst je vraag via het contactformulier. Weet je al precies wat je wilt? Laat het mij weten via het bestelformulier. Ik zie je bestelling graag tegemoet!