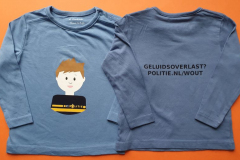 Wat een bijzondere opdracht was dit. In opdracht van het politieteam regio Zwolle mocht ik deze shirts maken voor de kleine Woutjes in spé. Binnen dit team zijn maar liefst 2 jongens en 1 meisje geboren, waaronder een tweeling. Onlangs is de opdrachtgever betrokken geweest bij een nieuw digitaal project, namelijk de virtuele agent Wout. De T-shirts zijn dan ook geïnspireerd op het logo van de virtuele agent Wout. Op de achterkant van de shirts heb ik een wel een heel toepasselijke tekst mogen bewerken. (Wat overigens niet te hopen is voor de jonge ouders.)
Wil je reageren op dit bericht? Onderaan kun je een reactie achterlaten. Omdat ik het zo leuk vind jouw reactie te lezen krijg je ook altijd een reactie terug op jouw bericht. En ben je enthousiast over dit bericht? Delen mag!
Wil jij ook een uniek en persoonlijk Femkado bestellen ter gelegenheid van een geboorte, een verjaardag of een andere gelegenheid? Eventueel met bestemming buitenland? Of heb jij specifieke wensen? Geen probleem! Kijk eens op de site welke mogelijkheden er zijn. Heb je vragen of wil je overleggen? Stel dan eerst je vraag via het contactformulier. Weet je al precies wat je wilt? Laat het mij weten via het bestelformulier. Ik zie je bestelling graag tegemoet!