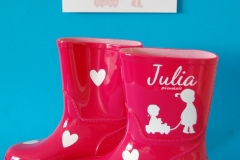 Ik raak altijd een beetje ontroerd bij geboortekaartjes waarbij het oudere zusje of broertje (of meerderen) betrokken zijn in de afbeelding. Zo lief! Ik zie dan zo weer het beeld voor mij van mijn eigen oudste dochter die met grote ogen over de rand van de wieg keek en voor het eerst haar zusje zag waar ze zo lang op had moeten wachten. En daarna het moment waarop ze met trots en bewondering haar zusje vast mocht houden. Of nee, dan de momenten waarop haar zusje eventjes bij haar in bed mocht liggen om te knuffelen. Zó schattig! (Kijk even op Facebook voor een blik terug in de tijd.)
De laarsjes voor Julia hebben ook zo'n schattige afbeelding gekregen naar aanleiding van het geboortekaartje. En om er nog een schepje lief(de) bovenop te doen heb ik over de laarsjes nog wat hartjes verdeeld van de binnenkant van het kaartje. Maar het kaartje was ook nog inspirerend voor de bewerking van een ander Femkado. Kijk bij Laatste Femkado's voor meer wetenswaardigheden hierover.
Wil je reageren op dit bericht? Onderaan kun je een reactie achterlaten. Omdat ik het zo leuk vind jouw reactie te lezen krijg je ook altijd een reactie terug op jouw bericht. En ben je enthousiast over dit bericht? Delen mag!
Wil jij ook een uniek en persoonlijk Femkado bestellen ter gelegenheid van een geboorte, een verjaardag of een andere gelegenheid? Eventueel met bestemming buitenland? Geen probleem! Kijk eens op de site welke mogelijkheden er zijn. Heb je vragen of wil je overleggen? Stel dan eerst je vraag via het contactformulier. Weet je al precies wat je wilt? Laat het mij weten via het bestelformulier. Ik zie je bestelling graag tegemoet!