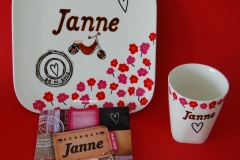 Femkado heeft 4 verschillende opties qua samenstelling voor een geboorte-/ verjaardag-/ of doopservies, variërend van drie tot vier onderdelen. Het is ook mogelijk om een eigen samenstelling te kiezen. Dit heet dan 'Optie Anders'.
Zo koos ook deze klant voor deze laatste optie . Zij wilde graag alleen een ontbijtbordje en een mok. Met behulp van het geboortekaartje van Janne heb ik een eigen invulling gegeven aan de bewerking van het servies. Vooral de rand van bloemetjes maakt het een fleurig geheel.
De bewerking van het verjaardagsservies voor Janne is gebaseerd op het geboortekaartje. Wil je reageren op dit bericht? Onderaan kun je een reactie achterlaten. Omdat ik het zo leuk vind jouw reactie te lezen krijg je ook altijd een reactie terug op jouw bericht. En ben je enthousiast over dit bericht? Delen mag!
Wil jij ook een uniek en persoonlijk Femkado bestellen ter gelegenheid van een geboorte, een verjaardag of een andere gelegenheid? Eventueel met bestemming buitenland? Geen probleem!
Kijk eens op de site welke mogelijkheden er zijn. Heb je vragen of wil je overleggen? Stel dan eerst je vraag via het contactformulier. Weet je al precies wat je wilt? Laat het mij weten via het bestelformulier. Ik zie je bestelling graag tegemoet!