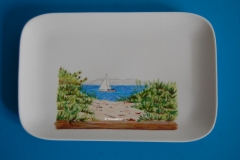 Dat ik persoonlijke cadeaus maak is algemeen bekend. Maar soms maak ik dan ook écht een persoonlijk cadeau. Zomaar, om iemand te bedanken of te verrassen. Een persoonlijke afbeelding voor de bewerking van het Femkado mag dan zeker niet ontbreken.
Zo koos ik voor de bewerking van deze traktatieschaal voor een foto met een speciale herinnering voor betreffende persoon. Ik weet dat deze foto bij haar in huis groot aan de muur hangt en vol in zicht zodat ze elke keer bij het passeren die fijne herinneringen ervaart. Maar ja, voor wat een verrassing moet blijven kun je natuurlijk niet nadrukkelijk gaan vragen om een afbeelding voor de bewerking. Na wat speurwerk is het mij dan toch gelukt de afbeelding te bemachtigen zonder medeweten van haar. Lang leve social media!
De traktatieschaal was in eerste instantie bedoeld als bedankje. Nu blijkt zij binnenkort jarig te zijn en kan ik het dus ook nog eens als verjaardagscadeau geven. Ik ben benieuwd naar haar verraste gezicht!
De afbeelding op deze trakatieschaal is gebaseerd op een foto van de Franse kust, een dierbaar plekje voor betreffende persoon.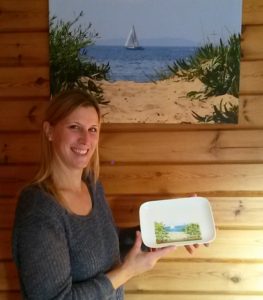 Wil je reageren op dit bericht? Onderaan kun je een reactie achterlaten. Omdat ik het zo leuk vind jouw reactie te lezen krijg je ook altijd een reactie terug op jouw bericht. En ben je enthousiast over dit bericht? Delen mag!
Wil jij ook een uniek en persoonlijk Femkado bestellen ter gelegenheid van een geboorte, verjaardag of als kraamcadeau? Kijk dan eens op de site welke mogelijkheden er zijn. Heb je vragen of wil je overleggen? Stel dan eerst je vraag via het contactformulier. Weet je al precies wat je wilt? Laat het mij weten via het bestelformulier. Ik zie je bestelling graag tegemoet!