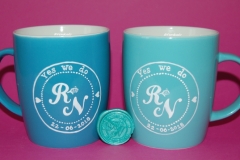 R&N bezegelen op 22 juni 2018 hun huwelijk. Aan mij het verzoek om de daarvoor gebruikte stempel te bewerken op een persoonlijke mok voor beiden. Leuk om weer een wat anders te doen dan een (geboorte)kaartje. Ik wens ze vast een mooie en liefdevolle dag toe.
De bewerking van de mokken voor R&N zijn gebaseerd op een stempel. Wil je reageren op dit bericht? Onderaan kun je een reactie achterlaten. Omdat ik het zo leuk vind jouw reactie te lezen krijg je ook altijd een reactie terug op jouw bericht. En ben je enthousiast over dit bericht? Delen mag!
Wil jij ook een uniek en persoonlijk Femkado bestellen ter gelegenheid van een bruiloft, geboorte, een verjaardag of een andere gelegenheid? Eventueel met bestemming buitenland? Geen probleem!
Kijk eens op de site welke mogelijkheden er zijn. Heb je vragen of wil je overleggen? Stel dan eerst je vraag via het contactformulier. Weet je al precies wat je wilt? Laat het mij weten via het bestelformulier. Ik zie je bestelling graag tegemoet!