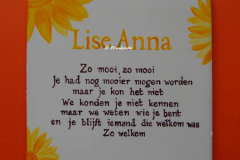 'Afscheid nemen bestaat niet
Je bent wel weg
Maar ik vergeet je niet…'
(Bron: Marco Borsato)
In opdracht van Verloskundigenpraktijk Witsenkade in Amsterdam (een trouwe klant) heb ik deze herinneringstegel mogen maken. Als verloskundige begeleid je dagelijks jonge ouders tijdens de bevalling en maak je deel uit van een bijzonder moment. Een moment waar veel emoties bij komen kijken van vreugde en helaas soms ook verdriet. Niets is zo intens verdrietig als wanneer jonge ouders afscheid moeten nemen van hun kindje. Zo ook de ouders van Lise Anne. Voor hen daarom deze herinneringstegel met een bewerking van een eenvoudig maar zo veelzeggend afscheidskaartje voor hun dochtertje.
Wil je reageren op dit bericht? Onderaan kun je een reactie achterlaten. Omdat ik het zo leuk vind jouw reactie te lezen krijg je ook altijd een reactie terug op jouw bericht. En ben je enthousiast over dit bericht? Delen mag!
Wil jij ook een uniek en persoonlijk Femkado bestellen ter gelegenheid van een geboorte, een verjaardag of een andere gelegenheid? Eventueel met bestemming buitenland? Of heb jij specifieke wensen? Geen probleem! Kijk eens op de site welke mogelijkheden er zijn. Heb je vragen of wil je overleggen? Stel dan eerst je vraag via het contactformulier. Weet je al precies wat je wilt? Laat het mij weten via het bestelformulier. Ik zie je bestelling graag tegemoet!