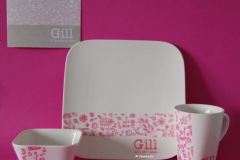 Dit lieve geboorteservies is voor Gill. Nieuw leven waar 9 maanden op gewacht wordt is een wonder. Wanneer het leven zelf niet vanzelfsprekend blijkt te zijn, wordt het leven een nog groter wonder. En met dit leven
ook dit kleine meisje dat over een enorme levenskracht bleek te beschouwen. Ik wens haar en haar ouders een mooie tijd samen toe. En met dit persoonlijke geboorteservies een herinnering aan het leven met al haar kracht en pracht!
Het geboorteservies voor Gill is geïnspireerd op het geboortekaartje van ©LittleDutch. Wil je reageren op dit bericht? Onderaan kun je een reactie achterlaten. Omdat ik het zo leuk vind jouw reactie te lezen krijg je ook altijd een reactie terug op jouw bericht. En ben je enthousiast over dit bericht? Delen mag!
Wil jij ook een uniek en persoonlijk Femkado bestellen ter gelegenheid van een geboorte, een verjaardag of een andere gelegenheid? Eventueel met bestemming buitenland? Geen probleem! Kijk eens op de site welke mogelijkheden er zijn. Heb je vragen of wil je overleggen? Stel dan eerst je vraag via het contactformulier. Weet je al precies wat je wilt? Laat het mij weten via het bestelformulier. Ik zie je bestelling graag tegemoet!